Preston was originally called Worm Creek when it was settled in 1888 because the waterways in the area resembled worms as they curved and wound their way through the countryside. (Another story relates that it was actually WARM Creek, because of the many hot springs in the area, but someone got it wrong and WORM Creek stuck!)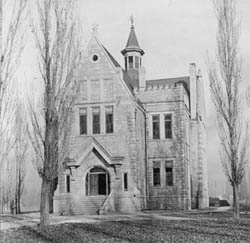 Relics of Preston's historic past can be seen in the Oneida Stake Academy building, built in 1890 and which once again made history in 2003 when it was moved, in one piece, to its new home in Benson Park in the city center of Preston. As far as we know, the Academy is the largest, highest, and heaviest building to be moved intact in U.S. history. Restoration of the grand old lady of Preston is under way.
Official Oneida Stake Academy Blog
 Other monuments to the past, include the home of LDS Apostle Matthew Cowley, the Bear River Massacre site, Historic Downtown Franklin, most of the downtown business district and other stately and beautiful homes and buildings. One of Preston's most entertaining undertakings was the restoration of the Grand Theatre, a grand old movie house built in 1930. Along with the restoration, the name was changed to Worm Creek Opera House. This new name is in connection with our roots. Operated by Franklin County Theatre Arts Council Inc., a non-profit corporation dedicated to the arts in Franklin County. Movies are presented year round, with a liberal insertion of Musicals and live Plays. It is also used for Orchestra, Piano and other performances. All in all a fun place to be.
Bear River Massacre Site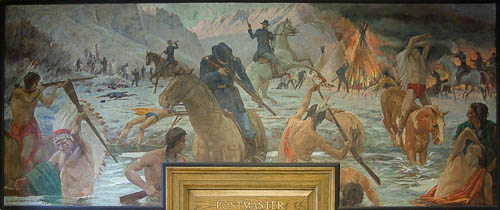 This now peaceful valley is the site of one of the most tragic meetings of two cultures that the state has ever experienced. At 1:00 am on January 29, 1863, an infantry of soldiers with all their weapons moved through the snow drifts into position to attack a band of 450 Shoshoni men, women, and children that had camped along the banks of the Bear River. The troops began the attack at the crack of dawn just as they  were lighting their first campfires. The Shoshoni lost nearly 275 people due to this cruel attack of the California Volunteers. The battle became one of the worst disasters for Native Americans in the west.
There is a monument dedicated to the Massacre just 4.5 miles, or 10 minutes, out of Preston on US 91 to the top of the hill. The entrance is on the right.
The Pioneer Historic Byway runs through Franklin County. It abounds with scenic and historic sites for families and travelers to discover and enjoy.  Geological formations combine with mountain passes providing a beautiful journey. The Pioneer Historic Byway begins on US 91 at the Utah/Idaho border.  It then continues north to Idaho 34 ending at the Idaho/Wyoming border.